Browsing articles tagged with " standard"
You know I'm a fan of standards, both internal organizational standards and external open standards.  Today was one of those days that made me feel like hugging a few more.
Have Surface Pro, Willing to Travel
I have a Surface Pro.  It has been fun to get to know it, but I've had one thing stopping me from making it my primary travel machine: I would need to use it as a presentation device.  When I bought it, the Microsoft store was out of the Surface Pro VGA adapters and due to hardware differences, the one for the Surface RT won't work.  I figured this was a typical Canadian retail outage and I could pick one up in the US or online somewhere.  But then I started searching.  Amazon.ca,  BestBuy.ca. All sold out.  So then I tried BestBuy.com.  Not available online.  Unavailable for pick up in any store I searched for.
I did see that Microsoft online stores would let me order, but I was worried that if I ordered I would then get a dreaded "backordered" email a few days later.  So I resigned myself to wait.
But Wait…
Then I noticed something I should have noticed all along: the adapter wasn't a proprietary connection like the power supply; it was Mini DisplayPort Adapter.  Where had I heard that before?  Thinking, thinking….BINGO.  My MacBook Air uses Mini DisplayPort adapters.  Could they work?  I doubted it.  I was sure there's be something that just wouldn't work.  But I grabbed my set of VGA and HDMI adapters (the bottom two adapters in the photo)  and hooked them up first to my TV, then a monitor.  Bingo.  They worked.  I didn't need to wait for Microsoft or lug around my heavy Targus Dual Display Dock that I bought.  I could just keep using  the same adapters for both my MacBook Air and my Surface Pro.
I didn't have to install any drivers.  All I had to do was configure the Surface to use an external device (Left side swipe to open the charms, click Devices, then Second Screen) and it all just worked.
Wired Ethernet
That left the USB Ethernet dongle (the top adapter in the picture), something else I needed because sometimes I stay in hotels that don't have Wi-Fi but do have wired Internet.  I do travel with a small wireless router, but sometimes there's an issue with the hotel's proprietary login/charge screen. Having the option to wire up my tablet is a bonus.
I tried just plugging in my Apple USB Ethernet cord, but no joy.  So I did some searching and came across these two blog posts that made it work":
That worked.  So now I have two display options, HDMI and VGA and I know that I can find these in lots of retailers if I need more. 
Standards, FTW
This all worked because neither Apple nor Microsoft chose to use proprietary adapters or appware to support video out on their devices.  This is why standards are better for consumers.  I can Reduce the purchase of more eCrap and iCrap.  I can Reuse things I already had.  Hopefully, they are Recyclable as well. They will at least have a much longer lifespan that all my proprietary connectors from the last 15 years.
Standards help consumers, even if they cut a bit of icing out of the math for the manufacturers.  This is why Europeans have pretty much forced device manufacturers to use standard chargers.  We need standards.  Standards make stuff just work.
I've been active in standards bodies, of some sort, for decades.  I think XKCD.com has nailed the biggest issue with standards: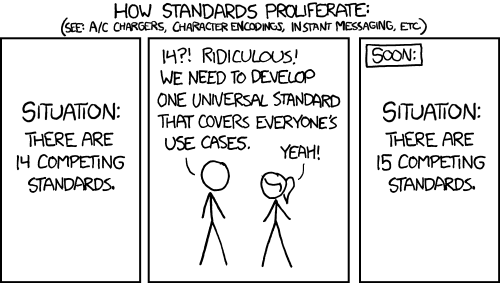 Why can't we all just get along, anyway?
You probably know that I'm a huge fan of standardization in helping us speak a common language – not just the same words, but the same meaning.  When I talk about Contentious Issues, one of the key points I make is that most debates among the data professional crowd is due to the fact that we don't do a good job of defining our terms. This is a clear case of cobbler's children having no shoes.
One of the primary organizations for managing standards is the National Institute of Standards and Technology (NIST).  NIST has drafted a special publication on The NIST Definition of Cloud Computing.  It's short — only 3 pages.  This paper outlines the essential characteristics of the Cloud:
On-demand self-service.

Broad network access.

Resource pooling.

Rapid elasticity.

Measured Service.
Now when someone uses "Cloud" to mean just the web, any application, or a websites, you can point them to the proper definition of the term.
You probably have some default settings or shop standards (Yes, I have standards!) for your ERwin data models.  A time saving method for ensuring that you don't have to set those defaults for every model file is to create a data model template, then use that when you create a new model.
The steps for creating and using a template:
Open ERwin Data Modeler with a blank model (choose the type: Logical, Physical, or Logical/Physical)
Set your defaults, create standard objects like domains or UDTs or UDPs – anything you'd like to appear or be enforced in future data models that make use of this template.
Save the model as a template:

Notice that I've chosen to use underscores in the template file name.  ERwin seems to force the name to all upper case, so spaces or underscores will be needed to make the file name readable when you go to open again.  The file will be saved with a special extension, .erwin_tmpl .  This tells ERwin it is a template file.

Once you have saved this, it will be available on the FILE, NEW menu option for use when you create new models: 

Once you have this open, you'll need to remember to do an immediate FILE, SAVE AS… to save it as a regular .erwin file.
At this point you have created an ERwin template file and used it to create a model that will have the reusable objects you want to share as well as enforce some standards.
Recent Comments
Categories
Archive