Browsing articles tagged with " careers"
Although technologies have been changing rapidly since the creation of databases, the basic tasks that a database administrator (DBA) has performed have been a stable foundation of professional database design and support. But now NoSQL technologies, the cloud, and new SQL Server features are affecting DBA jobs, tasks, and careers.
Our panel of SQL Server experts share their current experiences in the data profession. They share what they believe you should be working towards now and in the future.
A couple of months ago I talked about Project Parabola – It's Reorg Season.  The project is basically concluded, and not surprisingly, resulted in a small number of layoffs. In a really sad situation an employee walked over to my cube and asked if I had a plastic bag or a box—at first I thought he was joking, but then quickly realized he wasn't joking. I have to say: watching this was really painful, and frankly, his manager should had a box ready for all of his stuff. That was particularly crappy.
As part of Project Parabola, a small number of employees were let go—they got a basic severance package of a week of salary for each year they worked for the company, along with their vacation pay. Additionally, they get the use of an outplacement service, (I'll talk more about this later). So how can you prepare for a layoff?
Always be looking—never stop looking for jobs. Your company doesn't care about you (seriously no box?) so why should you be loyal to them? I'm not implying you should job hop—but talk to human traffickers recruiters (I love the good ones, I really do), and see what's going on. By all means, if you see something that looks interesting to you, wrangle your way into an interview for it.
Keep your resume/CVs up to date and tailor them to the specific job description you are applying for. Notice that I have used plural forms there?  Yes, it's fine to have resumes tailored to specific types of jobs.  In fact, it's a good thing.
Network with others NOW, not when you need a job. By networking, I don't mean handing out business cards. I mean building relationships with people. You don't have be BFFs, but you do need to know people well enough to ask them for a favour, later.
Join user groups and participate in them. Attend some meetings. Most user group meetings are free. Take advantage of that.  My mantra is NetworkToGetWork.  Remember that.
Participate in social media, even if you can do it only on a limited basis. Your reach is so much larger there. Still do local, in-person networking, but don't ignore the virtual opportunities.
Update LinkedIn—make sure your skills and profile are up to date. Don't wait to do this when you need it. Do it now. In fact, in my presentations on Career Management for Data Professionals, I tell people to set a reminder to update their profile monthly. Not only does this keep your profile up to date, it notifies people in your network that something has changed. That gets your name in front of them on a regular basis. Regular updates also have the benefit of not signalling your boss that you might be looking for a job.
Help people now, not when you need help. In addition to building a network you should have a reputation of helping others. I don't mean just offering to help, but spending time to give others advice, write a helpful blog post, answer an email or to give someone a ride to a SQL Saturday or DAMA event.  Note: I may have had assistance in writing this post.  Thank you, anonymous helper. If you ever need a job, you are on my list of people to help.
Read up on negotiation methods. Don't wait until you need those skills. Get them now. Practice them. You'll need them even during a layoff.  In fact, you should know what to do when you get a lay off notice a  head of time.  Your rights and obligations vary by jurisdiction, but generally you don't have to sign or agree to anything right then and there, even if they tell you that you do.
Have two month's salary in savings—severance and unemployment will help, but having a nice cushion is very good. I know this one is really difficult. But having a cushion allows you and your family to choose better options.
One other thing to remember—you are going to lose all computer access. This means your files and contacts will be gone. Make sure you keep copies of your contacts and any scripts or tools that you would like to retain, at least the ones you are allowed to take with you. Be sure you keep your personal files and contacts separate from your corporates ones.
NetworkToGetWork
The Good News
Depending on what your data source is the unemployment rate for database professionals is between 1-3%. The US Government defines full employment at 3%, so that means it won't take you very long to find a new job. The one thing I recommend highly is leveraging the outplacement services you'll get as part of your severance package. Those folks are professionals and can help you write a really good resume. Aside from that some other things you should do are:
Leverage your network. Let folks in your user group and personal network know that you are looking for a new gig (I'm assuming you are in a user group if you are reading this—if you aren't, you should be). The best jobs frequently never make it to a formal posting. This is where all that user grouping, social media work fun, blogging, and generally being a great resource to others is going to pay off, in a big way.
Update LinkedIn. Yes, I said above to do this regularly. You still need to do that.  But right now you need to let that network know you are looking for a job.  Do not under any circumstances change your title to Unemployed or something weak like that.  Change your title to the type of job you are looking for (and are qualified for).   This is the time to leverage your networks, so your networking profiles need to reflect the fact that you are looking for a new project.
Take the downtime to rest, exercise and learn new skills. Is there a new database feature you've been wanting to play with, but couldn't implement at your old job? Now is the time to learn it.
More Advice on Job Hunting and Layoffs
I've blogged about this topic before; you might find these posts helpful, too:
First Day of Work Karen: What I Would Tell Her
Looking for a Job? Some Free Advice That's Paid For
Do you have a blog post with career advice?  If you leave a comment here on my blog, you can choose that post to share it, too.  Share the love.
My Lessons on Layoffs
I've been around a while (I'm not old; I'm experienced), and I know a lot of this stuff, but "Do you have a bag" was still a surprise to me. There weren't many rumours of layoffs out of Parabola, so even though the total number was small, it was more eye opening. The number one thing I learned yesterday though, was to bring a bag, a plastic trash bag, and keep it in my desk, because MassiveMegaGlobalMegaCorpTM probably doesn't care enough about you to give you a box to put your belongings in.
Today Chris Hadfield of the Canadian Space Agency talked from the International Space Station to students at Chris Hadfield Public School in Milton, ON.  One of the questions was "How can I become an astronaut?".    In answering this question, Hadfield addressed career aspirations in general:
"The things I'm doing now, it's because I started working at it when I was your age."

"Decide what you might want to be and then start turning yourself into that person."

"You can start to turn yourself into an astronaut today. It doesn't happen just like that, but every single decision you make turns you a little bit into the person you want to be tomorrow and the day after that…"

"You have to turn yourself into who you want to be."
By the way, the kids certainly did prepare for the event: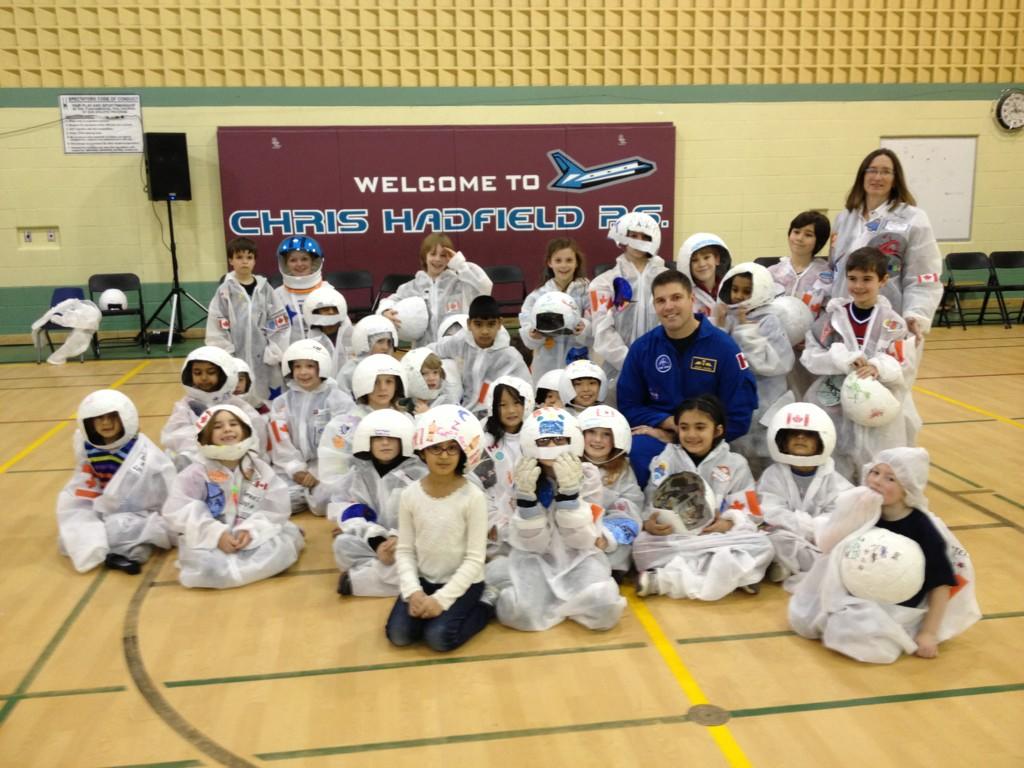 Chris Hadfield talks to Chris Hadfield Public School.
By the way, the CAPCOM for today was Astronaut Clay Anderson, who is retiring after 30 years of service to NASA.
I thought Cdmr. Hadfield's answers were pretty good advice for the kids.  And for us.  What are you doing today that will turn you into the person you want to be?
If you work in a large organization, you probably have been through a number of reorganizations. You know how this works: your management chain changes, people get new titles, and maybe, if you are lucky a few people get laid off. A good example are DBAs–they are a regular choice for reorganization, as they are frequently moved from Infrastructure to Applications groups or vice versa.
So how does this happen? It's usually a several phase process, which starts with a new high level executive (usually the CIO or perhaps in larger organizations a Senior Vice President). He or she brings in a team of overpaid consultants (no, not consultants that fix problems—these tend to be big 5 organizational consultants who haven't actually worked in IT). And the new CIO, if your karma is really dented, will bring along a new team of direct reports to help him get his quarterly bonuses.
Then, the project gets a really cool, exciting sounding name.
So The Parabola Project usually starts in late summer, just after vacation season. You may notice strange requests for information from your manager, also you may hear undercurrents about the latest hot methodologies (Agile, ITIL, Scrum). Around Thanksgiving, the rumors will really kick into overdrive. "The whole IT org is getting outsourced to Moldovia", or "The reason why Senior Director X left for BjgReallyCoolNewTech, Inc. is that he was going to lose his job in the reorg", are some examples of the types of rumors you will hear. Then eventually in early December, just before everyone leaves for Christmas, a new organization will be announced, there will be grumblings, and your IT organization will continue to have the same problems it had before. Only now the problems will be even more complex due to the recent organizational changes and for two months people will be way less productive because they don't know what they are supposed to be doing.
So why do we do this? Companies lose a ton of productivity and pay consulting firms into the millions of dollars for what amounts to rotating the tires on your car. I feel like it's a twofold process that relates to poor management.
Managers/Directors/VPs get bored in their day to day roles and want to make change happen
The same group of middle managers doesn't want to address people problems, so they try to solve them using process
Calling something new (Special Knowledge Efficiency Workgroup will somehow make ineffective people, processes or technologies work better.
Reorg activity can take the focus of poorly performing projects as well as provide a great project slippage justification
Technology, Process and People
IT is a three-legged stool consist technology, process and people. You can mitigate some technology problems with people, and technology can be used to replace people (computers are more consistent than humans). Where it gets challenging is when companies try to fix people problems with process. Once in a while a reorg can help foster collaboration within an organization. I've been through one such reorg where functions were split into a global/regional/local model, which was really effective in fostering process standardization and opening communication channels. However, when people who or can't do their jobs, changing the reporting structure won't turn them into superstars. Instead, the constant cycle of reorgs annoys and drives away your good employees. The mediocre employees who are happy just to have jobs, will stay since they have fewer options. So what can you do when the inevitable reorg happens?
Have a really solid internal network—it will let you know if you are being impacted well ahead of the reorg, which leads to…
Always have your resume/CV up to date, if the reorg puts you in a less favorable position, it may be time to move
Having a strong external network is also critical in helping plan your next moves
As long as there are companies there will be reorgs—middle managers need to keep themselves occupied. The best way to deal with this as an employee is to keep yourself extremely employable—keep your skills and network up to date, and you will always have a lot of employment options. If you have career options, you won't need to sweat a reorg, and if the reorg really sucks, vote with your feet.
I'm so blown away by how well this girl rants against the onslaught of PINK on girls and females.  For us grown-up girls, the concept of "shrink it and pink" as a marketing approach makes me want to run screaming out of the store.  I had an exhibitor take a nice 16GB USB drive I was picking up out out of my hand and replace it with a blinged out pink 2GB one, saying "Oh, you want this one instead".  No, I didn't.  And the fact that this vendor thought I did spoke volumes for how they felt about their female customers.
Sure, I cart around Barbies and have my fair share of girlie toys, but my Barbies are working girls – Technical Barbies that have job.  Astronauts, School teachers, FBI agents, Computer Engineers.  Action figures, I call them, because they do something other than look pretty. Most Barbies look like some type of working girl that involves being pretty, but I'll keep that discussion for later.
Anyway, this video of Riley on Marketing gives me new hope that someday we'll raise girls to have good analytical thinking.
In fairness to retailers, they stock and display merchandise in a manner that sells best.  Parents (and Aunties and Uncles), they do this because you like it.  Stop liking it.  Don't just buy for your little girl from an aisle with big sign that says "Girls" over it.  Think about where you want your darling girl to be at age 18 – still trying to find a Prince to make her a Princess…or readying to enter post-secondary education so that she never has to rely on anyone but herself.  Sure, buy her a Laundry Barbie and a all that princess stuff.  Tell her that she is your princess.  Let her have her truly silly girlie moments. But please don't let that be her only professional development plan from age 5-25. 
All I know is that when I hire people, I want a hell of lot more Rileys than I do princesses.
Recent Comments
Categories
Archive