Browsing articles in "Space"
Today is the general availability release date for the newest version of SQL Server, aptly named SQL Server 2014.  I'm excited about many of the new features being rolled out today, but the ones that will impact data architects, modelers and database designers are the new datatypes that will be introduced.  But first, for those of you who have their heads stuck in the deep piping and spit-managing of databases, some background about datatypes:
A datatype is a categorization of data items, based on the range and types of data that it can contain and a set of actions that can be validly taken against that data.
As such, applying a datatype to a column in a database makes it work as another type of constraint.  A tinyint column can't hold my Starbucks name (Kitty) because it constrains the values to integers and only a subset of all integers, for example.
The number and type of datatypes (yes, I'm being meta there) varies depending on the strength and quality of the tequila the DBMS product management teams were drinking at their last Vegas Blow Out team building retreat, as called for in the ISO Standards for databases, AKA
ISO/IEC JTC 1/SC 32 – Data management and interchange.  
One of the things that developers and DBAs will tell you is that choosing the right datatype is important for performance reasons.  And by that, they mean the smallest datatype you can fit most of the data in. And maybe a bit smaller.  Soooo much bad info out there, I know.  When Knowledge Conquers Fear, we can love our data.  Thank the Cosmos you have me here to help you out.
What's new in SQL Server 2014: A New Datatype
This new datatype is exciting for me as a data & space enthusiast.  The new feature finally allows modern database designers to properly specify the constraints for tracking time and location data in the same column. Yes, this means that your developers and DBAs no longer have to use comma-delimited values in their relational database designs when they need to track how much time and personal space they need to get up to speed on professional database design.  And it's big enough to store that many man-hours.  Yeah. I said that.
BTW, it seems that Stack Overflow is *the* place to find info on how to implement comma-delimited values in database columns.  Kids, don't get your database design knowledge from random forums on the Internet.
Anyway, back to the news!
The new feature makes so much sense with Microsoft's push to the Cloud, it's embracing of NoSQL technologies and all.  It's AWESOME.
spacetime (Transact-SQL)
Defines a time and location in a universe.
SQL Server 2014
spacetime Description
Property

Value

Syntax

spacetime [(fractional seconds precision)], (universe, 5DGeometry)

Usage

DECLARE @MySpacetime spacetime (1000, 2014.12.0.2000.8,  )

CREATE TABLE Table1 ( Column1 spacetime (1000, 2014.12.0.2000.8

,  ) )

Time Range

–∞ to +∞ and beyond
(I hope you have lots and lots of memory and storage)

Space Ranger

@cmdr_hadfield

Universe Range

Please check data.NASA.gov for the up-to-date listing of known Universes Multiverses, as this changes beyond Microsoft control. There is no control. There is no center.

5DGeometry Range

[you'll need a 5D monitor to view this range.]

Timezone offset range

Thank Venus, no, nope, never. We are scientists here. Use Multiuniversal Universal Time Coordinates (UTMC).

Daylight saving aware

Oh, for Carl's sake. Do you really think something like spacetime needs to be sullied by DST?

Storage size

If you have to ask, you don't ever need to use this datatype. Seriously.

Accuracy

+/- 10 Plancks. Depending on how far your server is from the Sun. Earth's Sun, that is.

Default value

1989-05-15 12:00:00.1000  2014.12.0.2000.8

Calendar

SQL Azure Windows Azure Dammit!
Microsoft Azure DB Support
Yes, of course.  But only in Premium plans and higher. 
Special Considerations and Gotchas
Some gotchas with this new datatype:
Due to the highly multi-dimensional, multiuniversal nature of this datatype, there isn't any backwards compatibility.  Unless, of course, you can fold spacetime and go back and change earlier versions of SQL Server. But if you could do that, you wouldn't be reading my blog, would you?
Just like the confusion over timestamps, you can't really treat this like a date or time datatype.  It's special.  And spatial. 
This means you can't convert it to date, time, datetime, timestamp or spatial datatypes, either.
The 5D geometry thing is way too complex to explain in a single blog post.  But for those of you that managed to stick it out through some college level math, it involves parsecs (the correct usage of the term) and the double declining balance method of space depreciation.  In this first rollout of spacetime, the geometry completely ignores most OctoDeca Bands.  Except for Miller tracks.
You can't use normal date and geometrical math on data in the columns. You can bend or fold the values, but since space has no center, and time has no beginning or end, spacetime has no beginning or end. It is infinite.  So the usual infinity rules apply.
This datatype is only available via O365, but that makes sense since as announced today, SQL Server 2014 is also only available via O365 subscriptions.
This datatype is only available at O365 plans at U3 and higher.  Wait, I don't think I should have said anything about the new Universe O365 plans.  Forget I said anything.  That's probably not going to be a rule in our universe.  Seriously.  No NDA broken.  I think.
Note
Some of this post may have been inspired by some bad veggie April Fish (poisson d'avril) I had last night.   If you want to get some real information about the new features of SQL Server 2014, you probably shouldn't read random blogs on the internet on launch day.  Especially when it's 1 April.
Did you catch all the special references in this post?  Let me know.
Me: Hi, Neil, I'm Karen
Neil: Hi, Karen….
This legacy database system was used throughout Cologne during my recent visit.  Do you know how to read it?
I also wonder how far back it goes… And whether technology will eventually make it obsolete?
This is Chris Hadfield calling from Houston…
Music to my ears.  How appropriate, eh?  Today I was honoured to be able to chat with Commander Chris Hadfield. It was brief, but I can't tell you how wonderful it was to talk to him again.  It was a personal call, so I didn't record it.  Some of the highlights:
He remembered where we had met once – at a Canadian Science Writers event in Toronto. I think he remembered because of @venusbarbie.  Yes, that sort of stuff gets you remembered.   I told him I actually met him first at Nolan's Pub in Cocoa Beach the night of the STS-134 Endeavour scrub — a surreal informal event with about 40 astronauts, NASA, ESA and other space organization staff.  Plus a few star-struck spacetweeps.
We talked about the maple cookies that I nominated to go to the space station.  I sometimes bring these to events because they are so dang good and do a good job of representing Canadian sweets. And they smell wonderful.
We talked about the amazing job he and the Canadian Space Agency did in promoting space exploration, STEM, and working hard to meet one's goals.  And #Chris2D. I really miss my travelling companion.   I admire the wonderful people at the CSA and all they did to make these exciting thing happen.  I can't wait to see what they do next.
We chatted a bit about his accomplishments before, during and after his mission.
We talked about his future plans for where he will be living and projects he will be doing.  I'm sure he'll be tweeting about those soon.
So why did I get the call?  Officially, because I won a contest for nominating Canadian food to go to the International Space Station.  Since he asked "You're Datachick, right"?", I'm hoping my prolific tweeting and sharing managed to help him in his work on space and STEM outreach.  I can dream, too, right?
You're Datachick, right?
It was a great honour that Chris would take time out of his busy schedule to personally call the winners of this contest.  I am happy that I got a chance to tell him how much I valued his work and the out come of his efforts going forward.  That's one of the things I think is wonderful about all the astronauts, but especially @cmdr_Hadfield. During his mission it always felt that he put a lot of effort into ensuring that people understood why we have the Station, why space is so important, and why regular people like you and me should be paying attention.  I think he managed to get a lot of attention for STEM, space and space agencies, don't you?
Thanks, Chris.  For all you did and all you are going to do in the future.  I can't wait to see what you'll be doing next.
Even though Chris is back on Earth and moving back to Canada, you can still follow the astronauts on the ISS, including my good friend (okay, I met him a couple of times) Luca Parmitato (@astro_luca).  Luca was Chris's mission backup.  Luca is currently sharing photos and doing interviews from the ISS.  You should go follow him for more space goodness.
Maple Cream Cookies in Space
Music Monday Video
Travelling with Chris2D
Does size matter?  Sometimes.
Today this tiny bit of data told a huge story.
From http://www.howmanypeopleareinspacerightnow.com/
Earlier today:
And then…
Today was the launch of Expedition 36 crew to the International Space Station. 
Maybe, someday, we'll be able to persist this data in something other than a TINYINT.
Update
And then this happened:
On 11 June 2013, the Chinese Space Agency launched 3 astronauts to the Chinese space station Tiangong-1, via the Shenzhou-10.  This launch included China's second female in space.  While it would be better if all nations were cooperating in space exploration, it's heartening to me to see progress of human space flight.  And getting closer to double digits of people working and living in space?  Wonderful.
Because everyone needs more moustache in their lives, right? 
I can't wait to visit with Commander Hadfield via the International Space Station this Thursday at the Canadian Space Agency Day in the Life of Chris Hadfield CSATweetup.  There's even a phone call with William Shatner.  We'll also hear from CSA scientists and investigators and Astronaut Jeremy Hansen (@astro_jeremy)
There may be photos and tweets.  Set your filters to stun.
Today Chris Hadfield of the Canadian Space Agency talked from the International Space Station to students at Chris Hadfield Public School in Milton, ON.  One of the questions was "How can I become an astronaut?".    In answering this question, Hadfield addressed career aspirations in general:
"The things I'm doing now, it's because I started working at it when I was your age."

"Decide what you might want to be and then start turning yourself into that person."

"You can start to turn yourself into an astronaut today. It doesn't happen just like that, but every single decision you make turns you a little bit into the person you want to be tomorrow and the day after that…"

"You have to turn yourself into who you want to be."
By the way, the kids certainly did prepare for the event: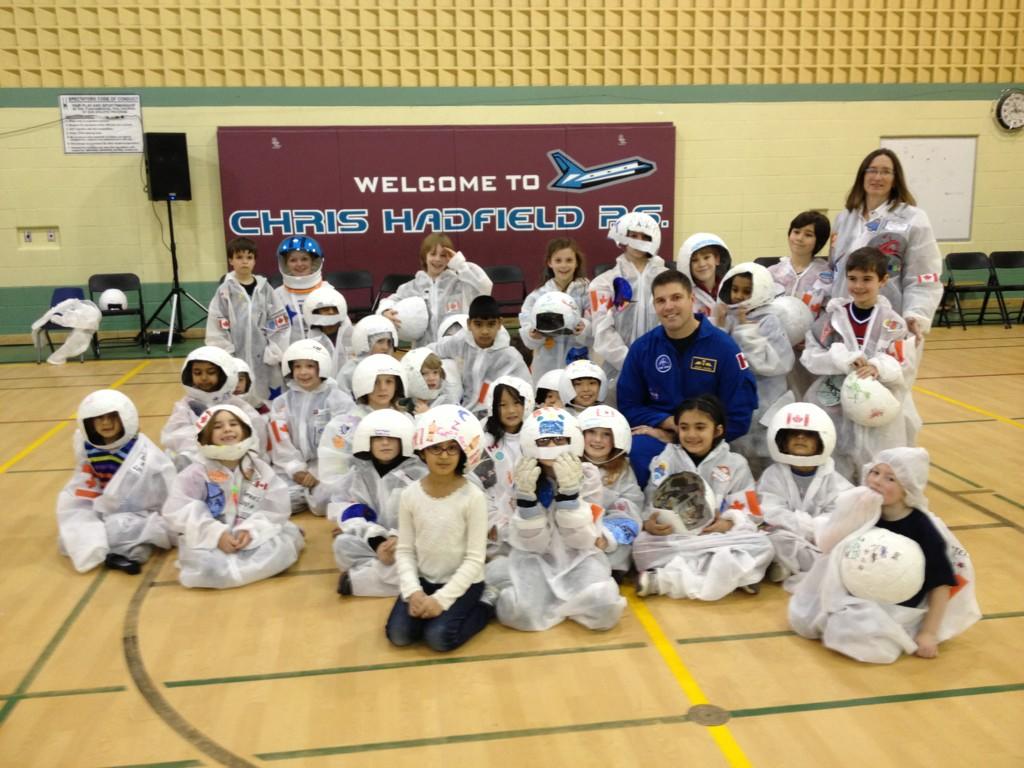 Chris Hadfield talks to Chris Hadfield Public School.
By the way, the CAPCOM for today was Astronaut Clay Anderson, who is retiring after 30 years of service to NASA.
I thought Cdmr. Hadfield's answers were pretty good advice for the kids.  And for us.  What are you doing today that will turn you into the person you want to be?
Recent Comments
Categories
Archive