Browsing articles from "January, 2013"
I've been blogging about health data breaches lately, but I'm not sure if there are more of them or if the reporting requirements are more strict.  I suspect the latter.
One of the things I've noticed is that many of the breaches seem to be of multiple exposures by the same organization, which has led to recent legislative changes to the HITECH Act.  You can see from the quote below that not only has the limit to the penalty been increased, but the penalties for repeat violators are higher. 
Given the sensitive nature of health data, I'm still thinking that we need to move more towards criminal penalties for wilful neglect and repeat violations.
In addition to redefining the scope and liabilities of business associates in the healthcare industry, the final HIPAA omnibus rule includes revisions to the penalties applied to each HIPAA violation category. While the American Recovery and Reinvestment Act of 2009 (ARRA) initially established a tiered penalty structure, it hasn't been revised until now.

Section 160.404 refers to the amount of civil monetary penalty as administered under the HITECH (Health Information Technology for Economic and Clinical Health) Act. The original penalty structure used to be:

via HIPAA Violation Penalties Rise in Response to Data Breaches | SmartData Collective.
Do you think companies are bearing enough of the responsibility for protecting our data?  Do you as a data professional get enough support from management to ensure that data is protected?
http://geek-and-poke.com/2008/11/how-to-confess-failure.html
I thought I had blogged about this Canadian data breach, but I guess not.  All these data breaches are coming so fast it's hard to keep up. In this report, we have another YAFF: a portable hard drive being used as a backup device.
It looks like Human Resources and Skills Development Canada (HRSDC) will be taking a three-pronged approach to protecting our data: first, a new policy banning portable storage devices; second, use of data loss protection technologies and third, establishing consequences for staff that cause a data breach.
OTTAWA — The federal department at the centre of a massive data breach says it is banning the use of portable data devices in its offices, using new technology to prevent information from being easily removed from the network and warning any staff that violation of the new rules could mean the loss of their job.

Human Resources and Skills Development Canada (HRSDC) said Monday that it will start using "data loss technology," which would allow the department to restrict when, where and which staff can remove information from government systems. Reviews have already started to see what risks the use of secured, portable data devices, such as USB memory sticks, carry in the department's work and whether there are enough safeguards to prevent another massive breach of personal information from happening again.

via Federal department bans use of portable devices after personal data breach | canada.com.
Their loss of more than half a million student loan borrowers' data has led to class action lawsuits.  A missing external hard drive is the hardware piece of this breach; the fact that this drive contained unencrypted backups is the behavioural issue.  Perhaps we need to start thinking about how to train end users on the consequences of moving data from "the system" to any place else, even for backup purposes.
Is there a solution?
I have more questions than solutions here, though.  Usually enterprise backup solutions involve software plus a server or external service.  I'm not sure why HRSDC was using a portable hard drive for backup.  They are harder to manage, they tend to walk away, and they aren't that reliable.  So I'm going to guess here that this device was a personal device or being used to sneakernet files from one location to another.  Perhaps from office to home, or from office to office.  Both of those scenarios bother me because they most likely were not official methods for doing these tasks. 
I don't think there's one answer.  Training, policy, inspections, consequences, real monitoring and protection, more training, more inspections, some tough decisions.  It's a complex issue that will require complex responses.  I'd like to hear what other organizations are doing to mitigate data breaches.
During this month's Big Challenges in Data Modeling we'll be talking about the state of data modeling. 
Last month Tom LaRock (@sqlrockstar | blog) wrote a post Data Modeling is Dead, Long Live Data Modeling. 
Data modeling is dead. It is a product of an era that has passed; that of corporate silos that created their own versions of software to suit their own needs.

That is no longer the world in which we live. That era was one that had high costs associated with building and maintaining a database of customers.

Today's era is one where you can subscribe to Salesforce.com for just a few dollars a day. You can decide for yourself to run a new report. How much did that same report cost in the old era? How long would it take for IT to deliver that report? That's why businesses today are using such services, because it reduces time and costs.
You need to read the whole post to get his position, but I find that his take on the state of data modeling is common in the IT world.  I posted a link to his blog post to a LinkedIn group and there was an extensive discussion.
I've invited Tom to join a real-world data architect and me to talk the current state of data modeling and what the future holds for data architects. 
This Month's Panelists
Thomas LaRock
Thomas LaRock is a seasoned IT professional with over a decade of technical and management experience. Currently serving as a Technical Evangelist for Confio Software, Thomas has progressed through several roles in his career including programmer, analyst, and DBA. Thomas holds a MS degree in Mathematics from Washington State University and is a member of the Usability Professional's Association. Thomas currently serves on the Board of Directors for the Professional Association for SQL Server (PASS) and is a SQL Server MCM as well as MVP. Thomas can also be found blogging at http://thomaslarock.com and is the author of DBA Survivor: Become a Rock Star DBA (http://dbasurvivor.com).
Gabriel Tanase
Gabriel Tanase is a Data Architect currently with a mid-size business consulting organization. He has accumulated some tough years of ordinary real-life data modeling experience and the not-unheard-of distinction of having taught it academically before really practicing. He is currently specializing in keeping everybody else in the project happy while quietly enforcing information meaning and integrity.
This webinar is free to attend, but you must register.  It officially starts at 2PM EST, but you can join us at 1:45 when we start our prep. We'll be taking questions via the Q&A and we offer a real time chat so that you can be part of the conversation, too. 
I think we need to have an industry acronym now that this seems to happen every week.  My proposals:
Yet Another USB Breach (YAUB)
Blame A Thumbdrive (BLAT)
Yet Another Flashdrive Fail (YAFF)
I like the YAFF one best, so I'm going with that, even though the #FAIL really isn't in the hardware, but in the abuse of policy and hardware to cause a data breach.
This week's YAFF announcement comes again from Utah, where a contractor with access to sensitive health data lost a USB flash drive somewhere between Salt Lake City, Denver, and Washington, DC.
What's different about this news story is that we get more insight as to why that data was on a portable device.  And it's just as I prognosticated in a previous post: the contractor was frustrated with an infrastructure issues.
The contractor, Goold Health Systems, handles Medicaid pharmacy transactions for the Health Department.Department spokesman Tom Hudachko said the GHS employee, identified only as a woman from Denver, was having trouble with an Internet connection Thursday while trying to upload the data to a server. The employee saved the personal information to an unencrypted USB memory stick and left the Health Department with the device. The employee lost the stick sometime in the following days while traveling between Salt Lake City, Denver and Washington, D.C.

(emphasis mine)

via Utah health department reports another data breach | NewsOK.com.
The contractor lost her job over this.
People Forget Policy When They Are Frustrated or Stressed
I once found a QA contractor cursing at his computer because he was having trouble sending a large file via his Hotmail account.  I offered to help.  When he showed me what he was doing I just about had a heart attack.  He had been trying to send our offshore contractor a copy of a production database backup.  This backup contained names, addresses, phone numbers, credit card information  (no, the legacy system shouldn't have been storing this information, but it did), SSNs, Driver's license numbers and other forms of ID. It was an identity theft treasure chest of awesome.
When I asked him why he was trying email this information to our offshore contractor he said he was frustrated that corporate email system would not let him email such a large file.
He told me the only reason he did this was that he had to get the bug logged and fixed before the weekend because he had plans to be away.  He also forgot that production data was never supposed to leave the building.    I'm not sure he ever really felt that what he was doing was wrong, or had any idea why emailing sensitive data was wrong.
The other shock I got was that it was a production DBA who had given him the backup.  When I asked the DBA why he did this without even asking what it was for, he said "I was really busy and didn't have time."
I wonder just how many times this scenario plays out every day in offices around the world.
Love your data, even when you are stressed.  Especially when you are stressed.
Today Chris Hadfield of the Canadian Space Agency talked from the International Space Station to students at Chris Hadfield Public School in Milton, ON.  One of the questions was "How can I become an astronaut?".    In answering this question, Hadfield addressed career aspirations in general:
"The things I'm doing now, it's because I started working at it when I was your age."

"Decide what you might want to be and then start turning yourself into that person."

"You can start to turn yourself into an astronaut today. It doesn't happen just like that, but every single decision you make turns you a little bit into the person you want to be tomorrow and the day after that…"

"You have to turn yourself into who you want to be."
By the way, the kids certainly did prepare for the event: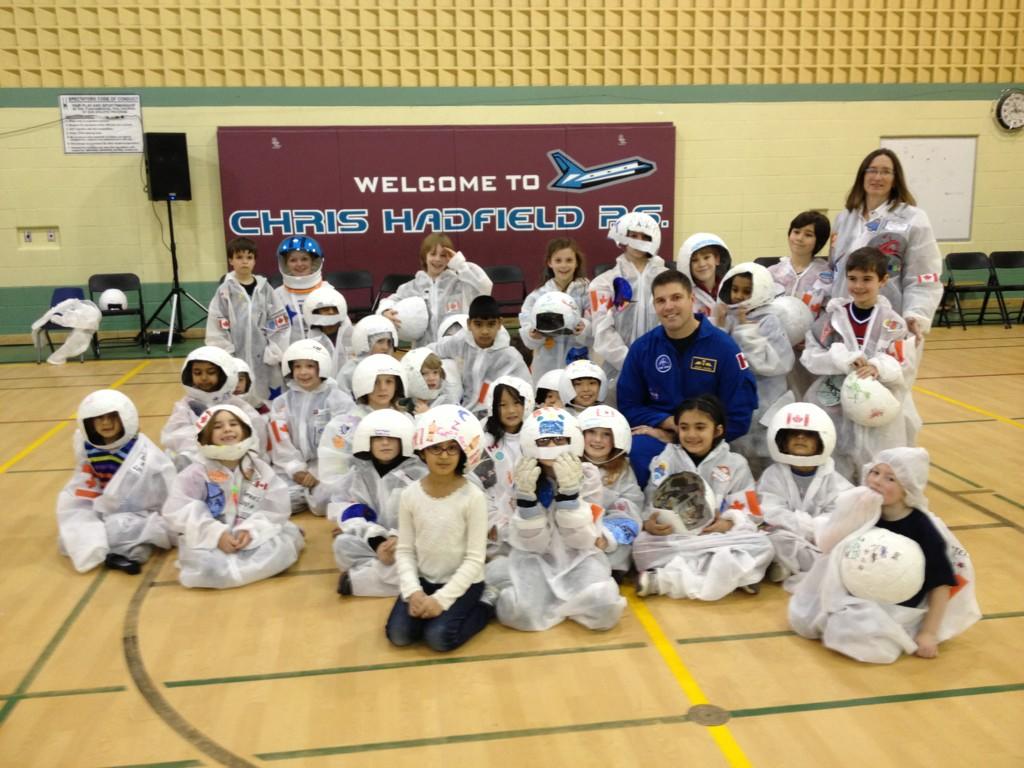 Chris Hadfield talks to Chris Hadfield Public School.
By the way, the CAPCOM for today was Astronaut Clay Anderson, who is retiring after 30 years of service to NASA.
I thought Cdmr. Hadfield's answers were pretty good advice for the kids.  And for us.  What are you doing today that will turn you into the person you want to be?
News about yet another health data breach comes, with millions affected.  The largest breach of about 5 million people involves yet again, a USB drive.
I could see why a CIO would want to order the disabling of all USB ports on corporate computers. Then will someone is going to come up with a "USB Drives Don't Breach Data, People Do" solution?
I'm still wondering why the tech community can't come up with a solution to this ongoing attack on people's data.   In these cases, is it that the employees just didn't care about the people? Were they feeling pressure to just get the job done?  Did they not know that sensitive data was on these devices?  Perhaps they were just sharing one of their USB bottle openers like the ones I collect?
– June 2012: The health data of about 38,000 individuals was shared with a researcher. The data was linked to Statistics Canada community health survey information. The disclosure of the information breached an agreement with the federal government.

– June 2012: A USB stick which contained a plain text file of 19 types of health data was provided to an authorized ministry contractor. The file included personal health numbers and health conditions – such as Alzheimers – for about five million individuals over several years. Against policy the data that was neither encrypted or made non identifiable.

– October 2010: Health Ministry data containing the personal health numbers of about 21,000 people – with diagnostic information for about 262 chronic diseases conditions – was shared on a USB stick with a researcher without a request being approved.

via B.C. Health Ministry data breach affects millions – 38,000 will receive letters – Local – Times Colonist.
Disabling USB ports seems like the wrong approach.  Right now I'm leaning towards criminal prosecution of people who are careless with our data.
Love your data.  Because it's really our data.
Recent Comments
Categories
Archive