Browsing articles from "July, 2012"
On behalf of Embarcadero Technologies, I'm leading a workshop on Data Governance and Stewardship in Chicago, IL on 25 July.   This event is free to attend; all you have to do is register.
We'll be talking about:
Effective data governance and stewardship is a crucial component of every business. InfoAdvisors' Principal Consultant, Karen Lopez, will share essential guidance on:
Leveraging enterprise data as a corporate asset
Tips, tricks, and traps to avoid when developing a data governance program
Managing business expectations cost-effectively and time-efficiently
Karen will also reveal highlights on compliance and policy programs from recent discussions with data professionals in the US Federal Government and Industry organizations.
Karen is a Senior Project Manager and Architect at InfoAdvisors with more than twenty years of experience helping organizations implement large, multi-project programs. She specializes in taking practical approaches to systems development and has helped many IT departments choose appropriate methods and standards, based on the department's culture, experience, and focus. Karen is the Moderator of InfoAdvisors/ITBoards.com IRM discussion groups, an online community of several thousand data management professionals and is also on the Board of Advisors for DAMA International and Zachman International. For more information, visit http://www.infoadvisors.com.
Data Governance Workshop Details
Date:        July 25, 2012
Time:        2-4pm
Location:  Discover Campus
2500 Lake Cook Road
RW2 Platinum Room
Riverwoods, IL 60015
Phone: 224-405-0900
I hope to make this interactive and fun.  There may also be space photos….
I've been active in standards bodies, of some sort, for decades.  I think XKCD.com has nailed the biggest issue with standards: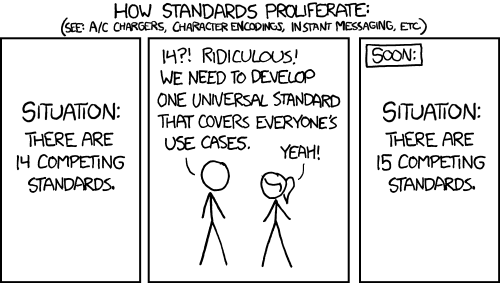 Why can't we all just get along, anyway?
…and, yes, this is quote from one of my former DBAs.
Today I received yet another bill from Allstream, our telecommunications provider for our toll-free number.   It was only for $5, but there was a problem…I'd cancelled my account with them a couple of months ago.  Yet they were still sending a bill.  The call went like this, for the most part:
Me: This is my 3rd call* to cancel my services

Allstream: Your services are all disconnected

Me: But I'm still getting billed.

Allstream: Yes.

Me: Why am I still getting billed?

Allstream: That's our customer charge**.

Me: What the f….?

Allstream: You didn't cancel being a customer, so your account is still active even though your services aren't.

Me: <redacted>

Allstream:…<pause>…..so did you want to cancel that?

Me: Yes, and I'm not going to pay this bill, either.

Allstream: Well, this one time*** we will waive that charge.

Me: You bet it's one time.

Allstream: I've cancelled your customer account.  Is there anything else I can help you with?

Me: No.

Allstream: Thank you for doing business with Allstream.

Me: <click>
* When we tried to cancel the first time, Rob called to do the cancellation, but they had to confirm with me.  So he got me on the phone and I confirmed.  Then days later, while I was on the road, they left a message asking if I really wanted to cancel or did I want to upgrade to something else.  I didn't return their call, so they cancelled the cancellation. And they continued to bill me. Seems they really didn't want me to cancel.
**Customer charges are becoming the norm for services, at least here in Ontario.  Business tack on these charges so that they can advertise lower rates for their core services.  All the utilities and service companies do this.  It's just a charge for the cost of you being a customer.  Because you are a liability to them, not an asset.  They must charge you for the right to charge you.  Or something like that.
*** One time fixes always get me going.  It must be fun to say that only this one time will the company fix their errors.  It really does make me want to run to find their competitor.
IT: The Enabler
I wonder what it's like to work on project that support these inane business rules.  How do project managers, business analysts, data architects, DBAs, devs et al sit through meetings and write up these requirements?  How do people just sit back and implement these sorts of rules, rules that clearly work against the customers and ultimately the bottom line?  Do you write all your requirements in Comic Sans?  Do you get free sodas and bottled water? A foosball table? Sure, jobs are tight and the economy is bad, but how do you bring yourselves to do this without having to take a 20 minute hot shower when you get home every night?
The recent webinar I did for Embarcadero is now available for viewing.  Enjoy.
Karen Lopez on Data Governance, Stewardship and Compliance.
If you are in the Chicago area, I will be be leading a similar workshop on 25 July 2012.  Details coming up in my next blog post.
Tom LaRock (@sqlrockstar) posted today about clustered indexes on uniqueidentifiers.  He has a great image there, which got me thinking about making my own….
Recent Comments
Categories
Archive