Browsing articles from "July, 2012"
I'm headed to Kansas City this Thursday to speak at the Kansas City SQL Server User Group and then on Saturday to present at the Kansas City SQL Saturday. I'd love to see you there.
On Thursday, 2 August I'll be debating with Tom LaRock (@sqlrockstar), giving a preview of our SQL Saturday presentation of Database Design Throwdown: The Trailer.  In this wonderful smackdown, I'll be talking about the importance of data quality, integrity and data governance while preparing database designs. I'm pretty sure Tom will be spouting wildly crazy, kooky ideas about performance, optimizing design to make life easier for DBAs and … I have no idea what else.  Probably bacon.  We won't be giving the same presentation as on Saturday — it will be more of a trailer version of that.  Oh, wait…that doesn't quite sound right.  It will be a teaser.  Yeah.  Something like that.  A teaser.
Kansas City SQL Server User Group
Details about the SQL Server User Group meeting:
Time

3:45 – 3:50 Greeting and Housekeeping
3:50 – 5:00 Database Design Throwdown: The Trailer
5:00 – 5:15 Door prizes and wrap up

Topic: Database Design Throwdown: A Trailer
Date:  August 2nd, 2012
Speaker: Thomas LaRock versus Karen Lopez

Overview: If a man is alone in the forest and there is no woman around to watch him design a database is he still wrong? Join us in this highly interactive debate regarding the options and best practices of common and advanced design issues such as natural versus surrogate keys, NULL versus NOT NULL, data quality versus performance, and others. Bring your opinions and experience and join the discussion.

About Speakers:

Thomas LaRock is a seasoned IT professional with over a decade of technical and management experience. Currently serving as a senior database administrator with Confio Software, Thomas has progressed through several roles including programmer, analyst, and DBA. Prior to that, he worked at several software and consulting companies, working at customer sites in the United States and abroad. Thomas holds a MS degree in Mathematics from Washington State University and is a member of the Usability Professional's Association. Thomas also currently serves on the Board of Directors for the Professional Association for SQL Server (PASS), is a SQL Server MVP, and can also be found blogging at http://thomaslarock.com and is the author of DBA Survivor: Become a Rock Star DBA (http://dbasurvivor.com).

Karen Lopez is Sr. Project Manager and Architect at InfoAdvisors, Inc. Karen is a frequent speaker at conferences and user groups. She has 20+ years of experience in project and data management on large, multi-project programs. Karen specializes in the practical application of data management principles. Karen is also the ListMistress and moderator of the InfoAdvisors Discussion Groups at www.infoadvisors.com.

Location:

8700 State Line Road
Suite 200L
Leawood, KS 66206  (map)
Data Model Driven Database Design
On Saturday, 4 August I will be presenting at the Kansas City SQL Saturday (aka #SQLSat159 — don't get me started on why they use a surrogate key as their names for these…) on Model Driven Database Design
Model-Driven Database Design

Model-Driven Database Development: Myths, Magic and Methods. In this presentation, Karen discusses data model-driven database development from the point of view of the Data Architect, the DBA, and the Developer. She will cover topics such as "Who does what?", "Why are we doing this?", "Do I have to Use a GUI?" and "Just who do you think you are?". Demos, too. Finally, 10 tips for making model-driven database development successful in your organization's culture and environment.

Session Level: Beginner

Location: Cerner Corporation's Riverport Campus, 6711 NE Birmingham Rd, Kansas City, MO, 64117
And Tom and I will be doing our full debate on Database Design: The Throwdown, as described above.  Registration is required for the SQL Saturday, but it's totally free – you get swag, prizes and access to some of the best speakers in the SQL Server community.  I attended this last year in Kansas City and they did a fabulous job.  You want to be there, too.
If you think about it, each of your role models had role models to guide them. I know many men and women for whom Sally Ride showed them the way. Each of us carries with us the insight and inspiration that we saw in others. We are sharing what we saw in her with those that come after us.
Nichelle Nichols (@RealNichelle) shares her story of meeting Sally Ride after NASA engaged Nichelle to help recruit more minority candidates:
"She once thanked me for my recruitment efforts while under contract to NASA, saying "If it hadn't been for you I might not be here."
Nichelle inspired Sally and Sally inspired me (they both did, actually). Now I want to pass that along. That's why I spend time working to ensure that girls know that there are great jobs, rewarding careers, and fabulous opportunities in the STEM world.
What have you done, today, to inspire someone else?
As I shared with you previously, I'm a guest judge on Microsoft Learning's new reality show, Be The Next Microsoft Employee.  In this contest, four SQL Server DBAs compete for a chance to work at Microsoft.  They have to go through all the normal Microsoft interview processes PLUS compete in front of cameras, crew and the Internet on a series of data-related challenges. The challenge I participated in, filmed on the Microsoft campus, was the last one and it was a doozy.
It should be no surprise to you that I took the Technical Barbies (@Data_Model and @VenusBarbie) along for the filming.  Since this was a hiring contest, I also brought along Working Woman Barbie, who comes with a suit that also turns into a glittery dance dress for after work fun.  Working Woman Barbie can talk, too.  She says fun things, but she talks too much about Ken.
When we arrived at the shoot, the first thing the Barbies got was a professional makeover.  Stylist Mimi Pettibone of StellarStyle.com has previous professional experience styling Barbies and action figures.  HOW LUCKY WAS THAT?  Mimi also gave me some great tips about styling and posing the Barbies.  Fishing line seems to be a key component.  I also showed her how I used clear braid rubber bands to help keep Barbie from losing her cell phone and shoes.  Just like I do.  Or should.
I live by a man's code, designed to fit a man's world, yet at the same time I never forget that a woman's first job is to choose the right shade of lipstick.
– Carole Lombard
I'm not sure I agree with Ms. Lombard there, but both the Barbies and I had to wear lipstick for this shoot.  That's how I knew I was on a reality show…just a different type of reality.
We took some before and after pictures.  I think I pretty much looked the same as VenusBarbie.  Mimi worked wonders with me.
Mimi did a fabulous job, don't you think?
I'll be joining host Graeme Simsion (@graemesimsion) and panelists  Terry Buino, John Giles, and Chris Woodruff for a lively and (I'm hoping) contentious discussion about Data Modeling in an Agile Environment.  This free webinar event will be hosted by Dataversity.net as part of their monthly series on data management issues.
We invite you to join us in this monthly DATAVERSITY webinar series, "Big Challenges with Data Modeling" hosted by Graeme Simsion. Join Graeme and two or more expert panelists each month to discuss their experiences in breaking through these specific data modeling challenges. Hear from experts in the field on how and where they came across these challenges and what resolution they found. Join them in the end for the Q&A portion to ask your own questions on the challenge topic of the month.
We four panelists come from a variety of backgrounds.  Two of us are Microsoft MVPs, one just wrote a book on Agile Data Modeling and another calls himself a born-again agilist.  Graeme is always the stimulating and controlling jocular host at these events…he'd have to be to manage the characters he has to herd in just a short period of time.
Many data architects and modelers tell me that they can't or won't work on agile projects.  Or that they've heard that there are no data models in agile approaches.  Worse, they've attended presentations by certain industry pundits who have been so anti-architecture that they don't understand why anyone would attempt this.  But it's not that way in practice.  Most of my projects over the last few years have been agile or SCRUM.  So I'm going to bring my experiences and stories to discussion, along with tips that I have for working on a software-focused delivery methodology. 
Find out whether agile is your friend or frenemy.
All you have to do is register to attend.  It's free, too.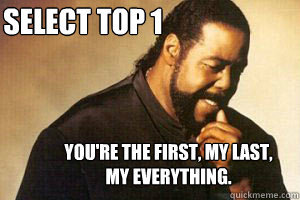 Courtesy of Tom LaRock's sense of humour (@sqlrockstar)
A developer, Justin Reese, just shared his own story about using the wrong datatype for phone numbers, over at DailyWTF.  He did this in an XML document, but I see the same mistake being made over and over again in data models and database designs.  In fact, this is a key part of my Data Modeling / Database Design Blunders presentation.  
My client reported that was a strange bug on a certain page in an app I built for them. Where the contact information for a series of offices was being displayed, all the information was correct except for one piece: the phone number. For multiple locations, the phone number displayed was the same: 214-748-3647.
I love reading about his quest to track this problem down and what the issue turned out to be.  I also love that he wrote a DailyWTF about himself.  We all should be doing that: sharing our mistakes so that others can learn from them.  I call that "Free Advice That's Paid For" in my blog posts. 
In my presentation my first blunder is using numeric datatypes for data values that aren't actually numbers.  Telephone numbers are one of them.  They may have leading zeros.  We don't do math on them, usually.  ZIPCodes are another example. Store them as INTEGER and you'll lose leading zeros.  And many Postal Codes have letters.  Think you have only US customers? You might.  But customers, people who may owe you money, have a way of moving around.  Of course, every design decision comes down to cost, benefit and risk.  So some designs may make a good case for using numeric datatypes for storing values that aren't actually numbers. But all the protections for data quality and correct retrieval need to be designed in, too.  That's the trade-off.  Also in my presentation I give a rule of thumb:
If business users call it a number, it ain't a number. 
Customer Number. Account Number.  Vehicle Identification Number.  Social Insurance Number.  Social Security Number (yeah, it's all numbers now, but nothing would stop the powers that be from changing that).  This is especially true for numbers that are managed by people outside your organization.  You just don't know when they might decide to add letter or special characters.
I get feedback from at least one person at each presentation that my blunders are way too obvious or that they aren't serious mistakes.  As much as I see poor or inaccurate datatype selection, I have to politely disagree.  These are the number one mistakes I see.  They compromise data quality, lead to tragic data errors, even.  Storing numbers that in fact aren't numbers as INTEGERS or other numeric datatypes is error prone, leads to nasty slow queries due to all the casting and table scans that may happen.  Eventually, those incorrect data values are going to come looking for you.  Usually after work hours, in production. If you've never seen them in the wild, then either you don't get out enough of you've been blessed by working with highly competent data modelers and database designers.  And we all know how rare those are.
Thanks to David Maxwell (@dmmaxwell | blog) for the pointer to this WTF
Recent Comments
Categories
Archive